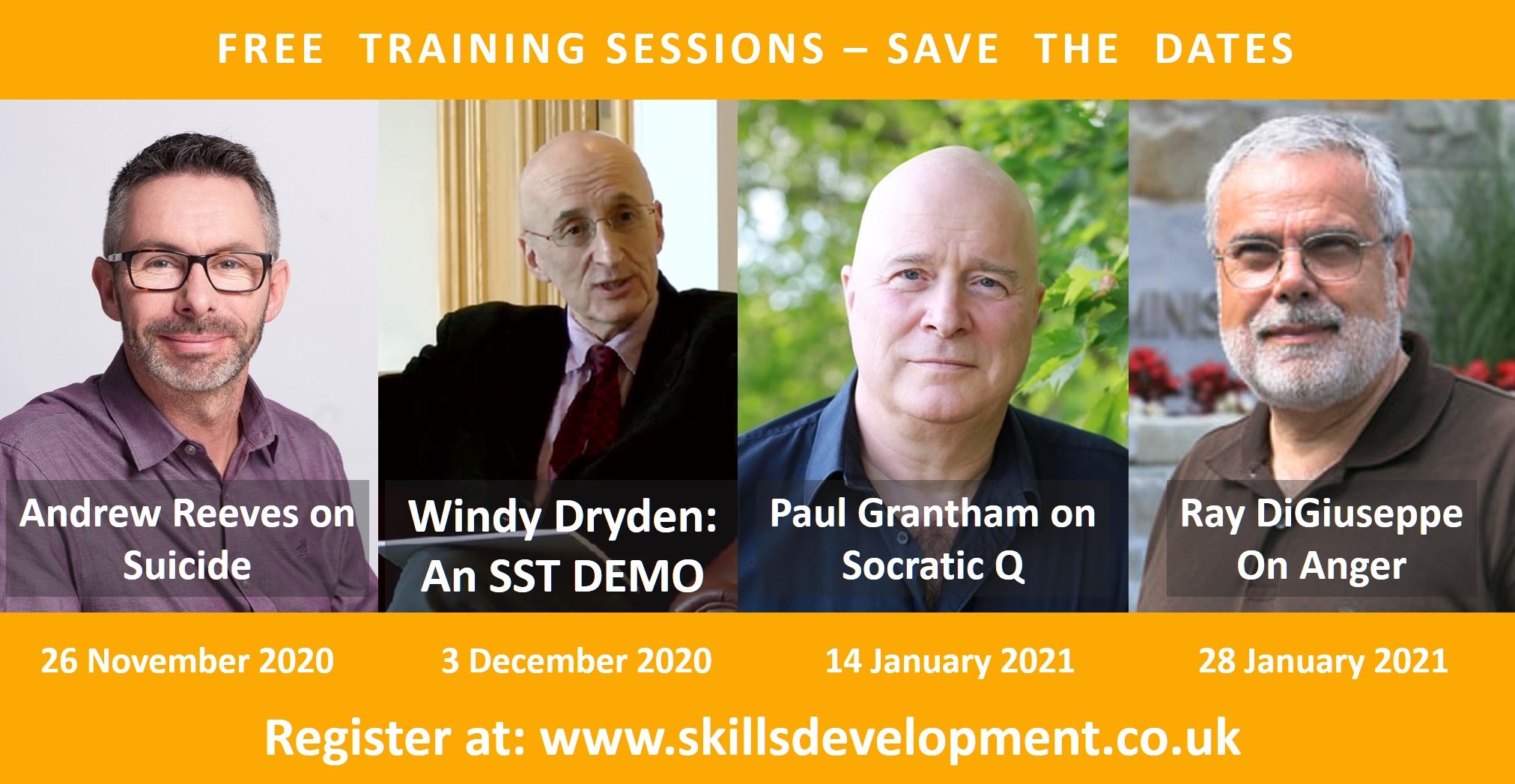 Save the Dates - SDS Thursdays for 2020-2021
---
Our hugely popular SDS THURSDAYS continue with new tutors and topics.
Save the dates:
26 November 2020 - with Professor Andrew Reeves on Working with Suicide. An Associate Professor in the Counselling Professions and Mental Health at the University of Chester, as well as Director, Colleges and Universities for the Charlie Waller Trust, and former Chair of BACP, Andrew Reeves, has researched therapy with suicidal clients and people who self-injure and self-harm for over 25 years and has written extensively about this.
3 December 2020 - with Professor Windy Dryden on Single-Session Therapy with Live Demonstration! Come and experience one of Windy Dryden's legendary demonstrations. If you are quick - you might be the one who he will be doing it with. Not to be missed!
14 January 2021 - with Professor Paul Grantham on Socratic Questioning Our first free Thursday on Socratic Questioning had over 300 people attending and left people wanting for more. More is coming in this session!
28 January 2021 - with Professor Ray DiGiuseppe on Anger A unique opportunity to meet this towering figure of the international psychotherapy field! Ray DiGiuseppe is, arguably, the world's most prominent researcher and author working with the topic of anger, he will be leading a one day Masterclass for SDS in March. Don't miss!
Start time - 19.00 UK time. Duration - 45 min approx.
Registration required! Register on the Home page of SDS website (blue background) under "Sign up here for SDS Thursdays & to receive our news and promotions".
See you there, these meetings are absolutely free!