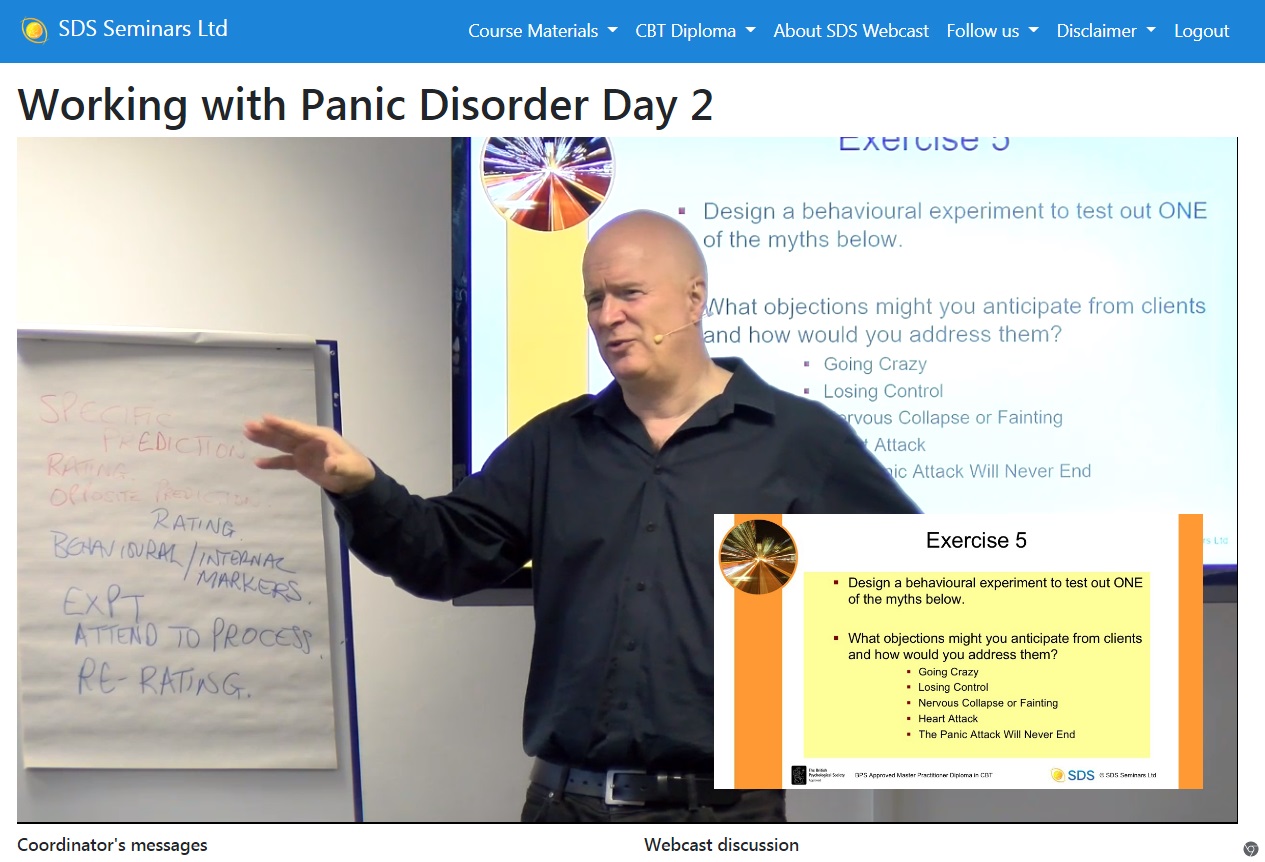 COVID-19: a brief report on new ways of working
---
We want to keep you posted about what we are doing at SDS Seminars in response to the current situation.
On Tuesday and Wednesday this week we ran our planned course on Working with Panic Disorder in a new way. For want of a better term we currently call it "Live Recording with a Tutor". A bit of a mouthful, I know.
I'll explain how it works:
• We use our latest recording of a live event on the topic
• You sign up to the webcast as normal
• You watch the webcast LIVE on the day
• The course tutor works with you through the day LIVE via the chat box
• He/She sees all your comments and questions as they come and engages in all discussions
• You receive FREE access to the full recording of the course for 60 days
This form of working has been proven extremely successful with your colleagues who participated in this event, they commented that having 100% attention from the tutor throughout the day made an enormous positive difference!
Just read some feedback statements below:
"Thanks for an excellent day. I don't understand how you can have a recording that interacts with real time people on the web. Sounds like magic!" J.R., via Webcast
"It was a really good day and way to train - especially under the exceptional circumstances. I live & work in Devon and would have had to cancel if it wasn't online today. I had the webcast on the laptop and materials on an iPad for dual scrolling. Being at home meant I could also - kind of calmly- check in with work during the breaks as there were so many urgent changes taking place. Win-win for me! Really looking forward to tomorrow" H.M., via Facebook Group Therapists Toolkit – Support, Resources & Networking
"I think you have done very well to adapt the training at short notice given the situation. That takes some doing!" C.P., via Webcast
I hope you'll find the above information useful and re-assuring. I will keep you posted about all our further developments.
In the time of self-isolation, remaining connected online with like-minded people is extremely important. That is why we've created a Facebook Group Therapists Toolkit – Support, Resources & Networking for our delegates to support each other and share information. Many of you have joint it already – thank you! Please join the group and let's keep talking. Paul Grantham and I will check your posts regularly and reply to your questions, also we will be sharing video materials and worksheets in this group and invite you to do the same. Let's remain connected in the time of self-isolation!
Stay safe and look after yourself.
With warmest regards
Julia