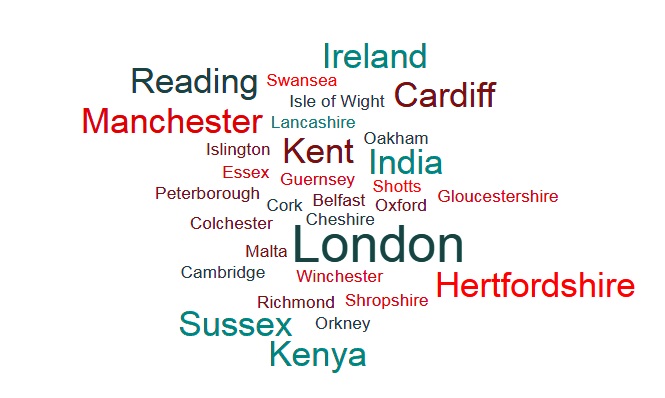 FREE Materials and a Video on Therapy and COVID-19
---
Last Thursday before our first Free Zoom Session we were quite apprehensive – would anybody come? In honesty, we even asked SDS staff members to join it to boost the numbers.
We started the meeting, looked at the screen and could not believe our eyes – the virtual room was full! 100 people with many queueing to join!
(I must say that at that point the members of SDS team logged out quickly to free some spaces for others!)
What can I say?
THANK YOU!
Paul and I were overwhelmed and grateful for such a wonderful response from you! People have joined us from all over the country and around the world – you can see just a small sample in the picture above.
It became very clear to us that the need for connection with colleagues is HUGE! And our decision to run such meetings was the right one.
THERE WERE SOME THEMES THAT EMERGED DURING THIS CONVERSATION THAT WE'VE TRIED TO ADDRESS IN FREE MATERIALS WE ARE SHARING WITH YOU TODAY.
1. People working in caring professions have higher demands on them in these circumstances. Looking after ourselves becomes a paramount issue. We've put together a brief paper that makes an attempt to give some guidance to all of us how to deal with this highly unusual and often overwhelming situation: HOW TO DEAL WITH THE STRESS AND ANXIETY OF COVID-19. You can find it in a number of places, try them all – you'll be able to download it from one of them for sure:
2. The issue of THERAPEUTIC GOALS in the current circumstances was one of the prominent questions that emerged from the meeting. Paul has recorded a VIDEO for you addressing this question. Once again, below are the sites you can watch this video on:
Hopefully – all these links will come in helpful and you'll be able to download the document and watch the video.
Our next Free Zoom Meeting is this THURSDAY, 9 April 2020, at 7 PM UK Time.
COVID-19, CBT & HEALTH ANXIETIES
Not surprisingly Health Anxieties are already becoming a major problem being faced by therapists as a result of COVID-19. Luckily CBT has a lot of experience and suggestions as to how to help such clients. Paul Grantham will lead a discussion via a current case (Ronnie) whose anxiety regarding COVID-19 infection has led her to become both anxious and over-controlling with her children. Come and join the discussion.
Join Zoom Meeting: https://us04web.zoom.us/j/645683289
IMPORTANT! If you have questions on the topic – please send them to us in advance. You can send them to me: julia@sds-seminars.com
WE HAVE UPGRADED OUR MEETINGS TO 500 PARTICIPANTS!
EVERYONE SHOULD GET IN THIS TIME!
Looking forward to seeing you all – this Thursday at 7 PM UK Time
Stay safe and well
Julia
Dr Julia Budnik