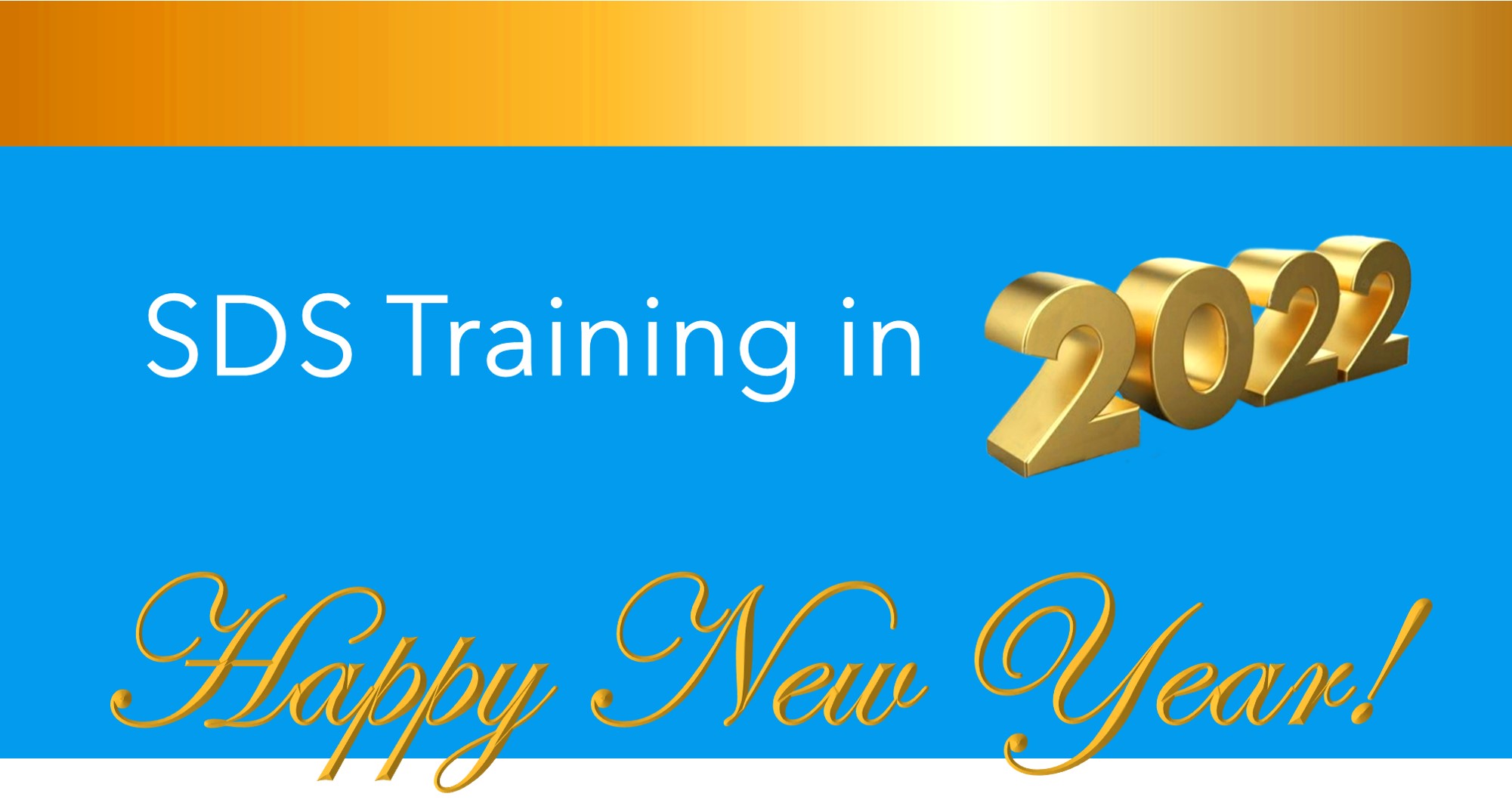 Happy New Year!
---
I guess, like me, you can't believe that we're just about to start another year already. 2021 seemed to go so quickly. And after yet another year of COVID and work pressures, it doesn't look like 2022 is going be a walk in the park either.
Here at SDS, we can't do anything to change what's happening around us; but we can support you and offer you the resources to help you move forward in your work.
Firstly, we are the ONLY training organisation to provide you with a FREE weekly regular forum of support and information. SDS Free Thursdays give everyone the chance to hear SDS trainers give highlighted talks on their upcoming training events – all for free. We started this in March 2020 at the start of the first lockdown during these difficult times. They have proved immensely popular – surprise-surprise! – and so we have decided to continue them - COVID or no COVID.
Want to be a part of them? Go back to the HOME PAGE and sign up. It is free and simple.
Secondly, I'd like to remind you that you can always be confident of the quality of SDS training events. Nearly all SDS courses are independently Approved by The British Psychological Society. To our knowledge we are the ONLY training organisation that can point to such INDEPENDENT validation. Check other training organisations and see whether they have the same INDEPENDENT Approval or Accreditation. It's one of the reason's SDS Seminars has the largest community of therapists that repeatedly return to our courses.
SO, HAVING GOT THAT OUT OF THE WAY, WHAT'S HAPPENING WITH SDS SEMINARS IN 2022?
To start with, can I say that we have read your emails about the difficulties you've had accessing our Essential Clinical Supervision and Introductory CBT Certificate courses. We know that places repeatedly book up early and so we have increased the number of CBT Certificate courses we are running in 2022 AND increasing the number of delegate places on the Essential Clinical Supervision courses. We hope this eases the pressure somewhat but can I emphasise that the surest way to be guaranteed a place on either of these courses is to BOOK EARLY. Oh…and don't forget that if you've attended ANY of our CBT training Modules you get AUTOMATIC access to our regular FREE CBT Tutorials that run throughout the year. No additional cost to you.
Two new Certificates that we started last year are continuing with NEW Modules in 2022.
CERTIFICATE IN INTEGRATED CBT FOR COMMON LIFE CHALLENGES continues with monthly 2 hour lunchtime Modules. Overcoming Doubt is the first in the year on 21 January. This is followed by Dealing with Resentfulness, Jealousy and Feeling Out of Control - to name just a few of the subsequent Modules. Don't forget that there are big discounts for block bookings of both Modules and for Group Bookings. And if you've missed any of last year's you can still purchase them as recordings from the SDS Archive so you can complete the full Certificate.
CERTIFICATE IN INTEGRATED CBT FOR WORKING WITH ADOLESCENTS also continues with 2 hour lunchtime Modules continuing with Trauma Following Sexual Assault on 14 January 2022. Again it's followed by Modules on Substance Use, Ethnicity, Identity and Racism and Sexual Orientation plus many others.
We even have a special 3x2hr Modules in March on EATING PROBLEMS IN ADOLESCENCE led by Deanne Jade – the Founder Director For The National Centre For Eating Disorders.
Again, there are discounts for all the Adolescents Modules as well as access to the SDS Archive to catch up on any you've previously missed.
At SDS we always do our best to introduce you to trainers who combine a real depth of evidence based knowledge with exceptional therapeutic skills and experience. For that reason we know, yet again, you will be thrilled to work with Professor Andrew Reeves on The Essentials of Working with Suicidal Clients – three 2 hour weekly trainings starting on 25 January 2022. Ex-President of BACP, 25 years of research on Suicide and a skilled practitioner. What's not to like? He'll follow it up with Supervising Risk in Counselling and Psychotherapy two 3 hour slots on 8 and 9 March. The great thing about Andrew's work is his critical eye regarding risk assessment combined with practical empathetic approaches.
There are only certain things that happen once a year and SDS' 2 day skills based training on Socratic Questioning on 2-3 March is one of them. Socratic Questioning is of course not unique to CBT but it's one of two areas that Accredited CBT Therapists always say they wished they'd received more training on. That's why once a year we do a "deep dive" into the area with extensive demonstrations and practice. Although it operates as a stand-alone training it is also one of the few Modules in the BPS Approved Master Practitioner Diploma that is not available as an archive recording training. I'm sure you can guess why. The emphasis is on demonstration and practice.
As an alternative, if you have a specialist interest in Socratic Questioning with Eating Disorders you might want to sign up to that Module which is running later in the year in September. Watch this space for further details!
Ever since Denise Elliott's seminal 2005 paper - Trauma Informed or Trauma Denied, there has been growing recognition that ALL practitioners – indeed, all service providers – should develop Trauma Informed Practice (TIP) skills and knowledge. The hidden existence of trauma in so many of our clients' lives mean that whatever work we do should both avoid the possibility of inadvertent traumatisation whilst also promoting a resilience and empowerment agenda.
Is this something you think your practice needs?
If you do sign up to our 2 x 3hr course Trauma & Trauma-Informed Practice on 5-6 May with Eva Roussou. Eva is one of the few UK Trauma Informed Consultants with a rare combination of extensive psychotherapy skills (as both a Clinical & Counselling Psychologist), organisational know-how and multi-modality training. Her expertise and experience is known extensively throughout the UK and abroad and you'll find this training with her extremely practical and confidence inducing. Super early birds discount is available to those to book quickly.
ONE THING THAT THE PANDEMIC HAS SURPRISINGLY OPENED UP IS THE INCREASING EASE WITH WHICH WE CAN BRING YOU TRAINERS AND SPEAKERS FROM OUTSIDE THE UK:
Bestselling author Linda Graham is reaching out to us from California with her NEW training Retiring Your Inner Critic: Ending Negative Self-Talk and Recovering Inner Well-Being staring on 16 March. This will run as three 2 hour weekly trainings. If bookings are like they were last year you will have to grab your place very quickly indeed. A colleague of Deb Dana, Linda is one of those rare trainers that combines extensive knowledge with charismatic inspiration.
Professor Nuno Ferreira from Cyprus is again leading his 3 Day ACT Practitioner's Toolkit and How To Use It on 10-12 May 2022. A purely skills based training – it requires completion of SDS's 2 Day Introduction to ACT (currently available as a recording) or equivalent and is part of the Assessed BPS Approved Certificate in Acceptance & Commitment Therapy (ACT). To our knowledge this is one of the very few INDEPENDENTLY Approved ACT Certificates in the world. Again, on the basis of last year, this course (which has limited numbers for skills training) will book up very, very quickly.
Later in the year Professor Ray Di Giuseppe of New York will be leading a 3 hour Masterclass specifically on Gender Differences with Anger Problems including therapy implications! We are still tying up the details but will keep you informed as soon as we know ourselves. For any of you who participated in his previous two day event Assessment, Diagnosis, and Treatment of Anger (now available as a recording), you will know why he's currently regarded as THE world expert and therapeutic researcher on Anger problems.
One of the big psychotherapeutic developments that coincided with the onset of the pandemic was the mushrooming interest in Single Session Therapy.
Developed by Emeritus Professor Windy Dryden, SDS steered the only independently Approved Certificate in Single Session Therapy through the BPS Approval process. Nearly two years on, CSST1 is now available as an online training with access to additional regular live tutorials and demonstrations with Windy. CSST2 the skills training and assessment part of the Certificate is running on 17-18 May. Again numbers are obviously limited. But if this approach grabs your interest, now's the time to sign up.
There are other events arising later in the year, but I'm sure you'll find this email is enough to spark your interest as 2022 begins. Whether you're simply thinking of attending our SDS Free Thursday Community or signing up for a one of our courses, I look forward to seeing you in 2022 and hope you have a safe and fulfilling year.
Kind Regards Paul Paul Grantham Consultant Clinical Psychologist Professor of Clinical Psychology PSMedU